Several months ago, we went to visit an orthodontist about Maggie's teeth.  The orthodontist came highly recommended by almost every English speaker we know in the area.   He laid out a comprehensive plan for Maggie's upcoming dental work.   It began with the removal of four of her wisdom teeth. We could clearly see the teeth on the x-rays, but they had not yet erupted.   When we left the dentist, our first call was to my sister-in-law. She is a master of all things medical and she has worked for a fabulous dentist for many years.    We sent her the x-rays and she was able to get a second opinion for us. That opinion included not pulling her wisdom teeth because it would be too painful for a child of her age.  We agreed.   My sister-in-law recommended we get a third opinion here in Portugal. We did. He also recommended not pulling the wisdom teeth. The dentist we saw here did say he is not an orthodontist and therefore cannot say with certainty that the extraction wasn't necessary for the braces.  He was very complementary of the surgeon though…that was encouraging.
We decided to meet with the oral surgeon. We had heard absolutely amazing things about her. Maggie was incredibly anxious. The surgeon took the time to explain the procedure to her. She told her why it was necessary to remove the wisdom teeth. The orthodontist needed that extra space in order to get Maggie's teeth in the best possible position.   Everything made sense, but we were still hesitant.  We booked the appointment.  We then cancelled the appointment and then we rebooked the appointment.
To be honest, I am not sure if it was Maggie's anxiety that was preventing us from pulling the trigger or our own.  My priest was extremely worried.  We scheduled the appointment before I had a concussion.  As the appointment date approached, I was getting intensely nervous.  I already don't feel well and looking after my baby when she will feels terrible, did not seem like the best idea.  We proceeded because Maggie really needs braces.  She has an open bite and a complicated orthodontic case.  Starting early, we were told, is the key to success.
The office overlooks the ocean.  Not bad.  I would be too distracted to work, but as I grilled the surgeon about the view, she didn't seem to notice.  I took this as a good sign.
Maggie was given medicine to calm her nerves.  She seemed chill.  My priest and I were not given drugs.  I think this was a mistake.  We were told to leave the room.  The orthodontist let us peek in on her and the office staff was amazing.  I could hear her talking and every few minutes call out my name.  Killed me.  After two and a half hours, success.  Four wisdom teeth were handed to me  in a little tooth shaped box.  One last visit from the tooth fairy.
I was given four different medications for her to take: an antibiotic, anti-inflammatory, topical cream, and pain killer.  She was sent home with ice.  Slowly, her checks began to grow.  They were swollen when we left the office, but now she looks insane.  I would include a picture, but I am afraid that years from now, she will read this blog and murder me.
She looks exactly like this, but in human form and with some bruising.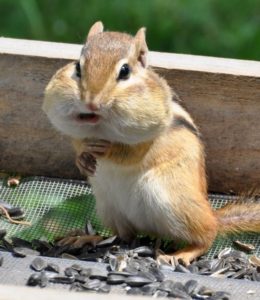 The surgeon gave us her cell phone number to call her anytime.  The office has called twice a day to check on her, plus they sent me a few text messages.  We are very impressed with their attention.  We appreciate their concern.  Maggie is sore and in pain, but that is to be expected.
Maggie has one huge problem…her father.  He is obsessed with her cute cheeks on any given day, now he is like a moth drawn to a flame.  He can't stop trying to touch them.  The poor girl has been hiding out in the bath most of the morning.  She says that she hopes the priest has to go out soon to pray with someone so she can rest.  We have a hard life.